History of St Alban's Cathedral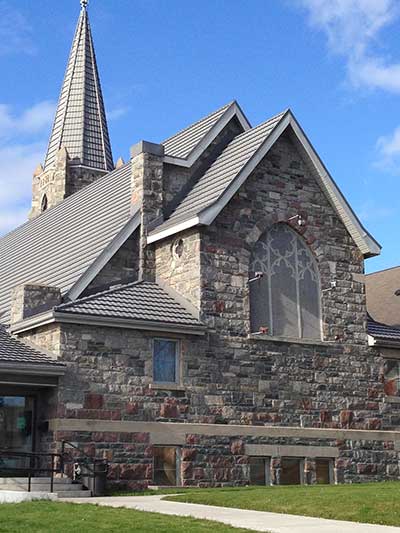 Welcome to St Alban's Cathedral!  In 2017 we celebrated 100 years of ministry on Main Street.
A Cathedral is a 'mother church' of a diocese and the home of the cathedra – the Bishop's chair.  St Alban's was THE cathedral for the Diocese of Keewatin until 2014 when the diocese ceased to exist and St Alban's became part of the Diocese of Rupert's Land.  Rupert's Land had the Cathedral of St John's and St Alban's became A cathedral of the diocese.
The Building
St Alban's has been a presence in Kenora since 1882 when the first Anglican service was held on November 1.  A short two years later the first building was constructed and known as St Alban's on the Hill.  A second building was constructed in the same location in 1893 after the first building burned to the ground in a tragic fire on January 10, 1892  That building was also destroyed by fire on February 2, 1917 and the present building was constructed in 1917 out of cut stone and near the water.  It's cornerstone was laid on August 7, 1917.
The current building was designed by Arthur J. Wills, an architect from Winnipeg.
The style is the Gothic Revival – a style that is said "to humble man and glorify God."  Because of that the Gothic Revival style was most often employed for church architecture.  Its defining features include: steeply pitched gable roofs, foliated ornamentation, pointed arches, and towers.
The outer walls are constructed with varied-coloured local granite with a natural rock faced finish which neatly represents the rustic textures and colour appropriate to a country church.
The main entrance at the northwest corner is marked by the tower and graceful spire.
The bell in the tower was made by John Taylor and Co., Bellfounder, Loughborough, England.  Lettering on the bell reads: 'Coronation 1937 – in Memory of the Departed and for your inspiration we ring in dulcet tones.'
The chancel is distinguished from the nave by a chancel arc.  Another arc marks the sanctuary and the East end contains a fairly modelled tracery window over which a decorated ribbon and inscription is painted on the wall.
The nave – the main seating area – can seat up to 250 people.