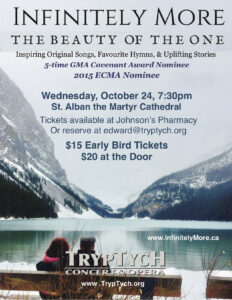 Infinitely More offers a fusion of folk, pop, hymns and worship that soothes the heart & ignites the soul. This full-time nationally touring ministry, led by husband and wife duo, Allison Lynn and Gerald Flemming, is embarking on its 4th annual Western Canada Tour covering Ontario to British Columbia. This spring they released their latest album: The Beauty of One. Since their 2012 debut album, this prolific duo has received 10 national music award nominations.
Combining prodigious finger-style guitar and signature vocal harmonies, Allison and Gerald create music that is uplifting, Spirit-filled, and cross-generational. Their songs are rooted in Scripture and on the stories of all of our stumbling walks of faith. Whether performing for a secular music festival, a joyous church event, or an intimate house concert, Infinitely More is always entertaining, inspiring, and full of God's joy.
For more info visit www.InfinitelyMore.ca
Early bird ticket: $15.
At the door: $20.
Contact [email protected] or also available at Johnson's Pharmacy.
Also available in the church office or after the service this coming Sunday.