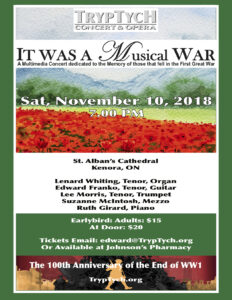 A Multimedia Concert dedicated to the memory of those that fell in the First Great War.
On the 100th anniversary of the end of World War 1, TrypTych is proud to present this powerful concert that takes you on a multimedia journey
through the story of the First Great War.  Through its legendary music, spellbinding story, and vivid imagery, this production carries a great emotional impact.
Featured artists are:
Lenard Whiting, Tenor/Organ; Edward Franko, Tenor/Guitar; Lee Morris, Tenor/Trumpet; Suzanne MacIntosh, Mezzo-Soprano; Ruth Girard, Piano.
Early bird tickets are $15.
Tickets at the door: $20
To purchase in advance contact [email protected] and available at Johnson's Pharmacy.